Bigg Boss season13; ep.15 : Siddhartha Dey comment on Aarti didn`t go well with the viewers, Shukla scolded him over the same
Housemates wake up dancing on the song 'main to aiwayin aiwayin lut gya'. Bigg Boss announced that Shukla and Shehnaz could come out of the jail. Queen Debolina unlocked jail and they both came out.
Paras Chhabra announced about the next task which was actually for the four nominated male contestants. Paras and Siddhartha Dey were in one team and Asim and Abu were in another team. There were two walls located in the garden area. Both the contestants from each team had to sit across the wall holding each other hands through the hole in the wall. The team who managed to hold the hands till buzzer rang will win the task and would get safe from nomination. Sidharth Shukla was the chancellor of the task. All the female contestants were allowed to support their favorite one and irritate whom they didn`t like.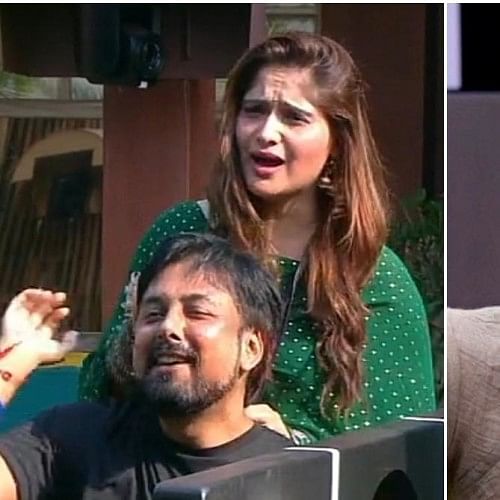 Aarti started to tickle Siddhartha Dey on which he said 'Shilajit ki zarurat nhi h yaha pe.. Aarti muje maze de rhi h'. Shehnaz put oil on Asim and Abu`s hands. Females tried to lift their non-favorite contestant by pouring chili powder, detergent powder, talcum powder, shaving cream, spices etc. on them.
Aarti accidentally got physically hurt by Paras on which she got outburst and tried to hurt Paras that led arguments between Mahira and her. Siddhartha Dey said Shehnaz 'do kaudi ki ladki'.
Housemates got into verbal arguments during the task. Asim Riaz started to cry as his face was burning but didn`t leave the hand.
Sidharth Shukla got outburst over Dey`s shilajit comment on Aarti. He scolded Dey over the same. Viewers are also slamming Dey over his bad comments on Aarti.
Since both teams were not leaving their hands, Bigg Boss appreciated their efforts and ended the task.
Rashmi and Debolina were seen discussing over Shukla`s bad behavior. Later Rashmi was seen talking with Paras over the same. She was saying that she would take out the real face of Shukla.