Bigg Boss season13; Weekend ka Vaar: Salman highlighted the issue between Rashmi and Shukla; Taapsee and Bhumi entered the show as guests
Salman entered in a dashing style in the show and joined housemates. First he asked Debolina about one of her statement she made about the male contestants that they should be taught how to behave with girls. Salman asked her whom she wanted to teach first and she mentioned Dey. So Dey was called in the box and got interrogated about the same. Dey apologized for the same.
Then Salman asked Rashmi about her resentment with Shukla when almost all the housemates were against Dey. Shukla was called in the box. Rashmi explained all her complains with Shukla in front of Salman. She complained about Shukla`s that he used a bad comment for her 'apni aukaat m rh' and also mentioned her as 'gutter'. Housemates also came with a lot of complaints against him about his rude behavior and insolence. Shukla explained his points and tried to clear all the complaints against him in front of Salman.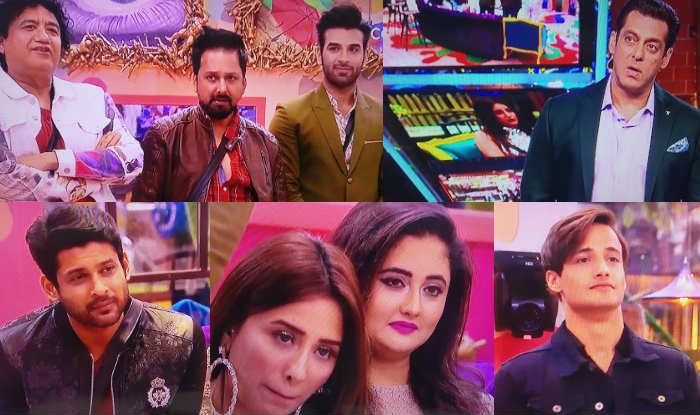 Then Shukla asked Paras to call in the box and complained that Paras used to play unfair game. Then a vivo caller of the week joined and asked Paras that why he always play behind the girls. The caller also complained that Paras do back biting about all the housemates. He also mentioned his comment which he made about Shukla that he would tell his secret as he knew Shukla`s driver through his driver.
Then two beautiful guests Bhumi Pednekar and Taapsee Pannu entered the show. They announced a task named 'Saand ki Laat' in which housemates were asked to name one contestant who deserve that Laat and why. Housemates enjoyed the task. Then they both promoted their upcoming movie 'Saand ki Aankh'. Housemates along with them danced on the song 'womaniya' from the film.
Later the both guests joined Salman and had some quality time together. Salman gave them a task to shoot balloons with a gun and perform some funny tasks. Salman too performed hook step on the song 'main jat yamla pagla deewana'.
Salman introduced a power task in which Paras and Shukla were asked to carry a bag and remaining housemates had to fill their bags with black blocks which were their sins actually by giving a suitable reason. The one who got minimum blocks would get a power card. Shukla got 4 blocks while Paras got 5 blocks. Hence Shukla won the power card.
Later Salman declared Rashmi and Mahira safe. Asim Riaz was also declared safe.
Shukla got his favorite dish 'Sreekhnad' because of his power card.